On September 8th, 2018 popular Blak's Bakery, run by the same Family since 1918, celebrated it's 100th anniversary of being continuously in business and serving our local community. The place located at 1022 Langlois Ave. Windsor, Ontario is famous on both sides of the border not only for their paczki, strudels and delicious pastry, but also for their trademark rye bread, made every day from the original sour dough starter and baked in century old brick owen.
In 2015 the Bakery became even more famous after comedian Jerry Seinfeld, who performed in Windsor fell in love with Blak's  Bakery marble rye bread and took  back home to New York 20 loaves of this delicacy presented  to him by Tony Blak – an avid fan of the Seinfeld Show.
"The sour is, as far as we know, the original sour from my grandfather Peter Blak Sr, because what we do every day is we save some to remake it for the next day," said owner Valerie Blak-Gill of the fermented mixture of flour and water that gets refreshed with more flour before it is put in the refrigerator at night to rise."
"We mix it by hand so I mean you think the same sour he mixed by hand, we're mixing by hand".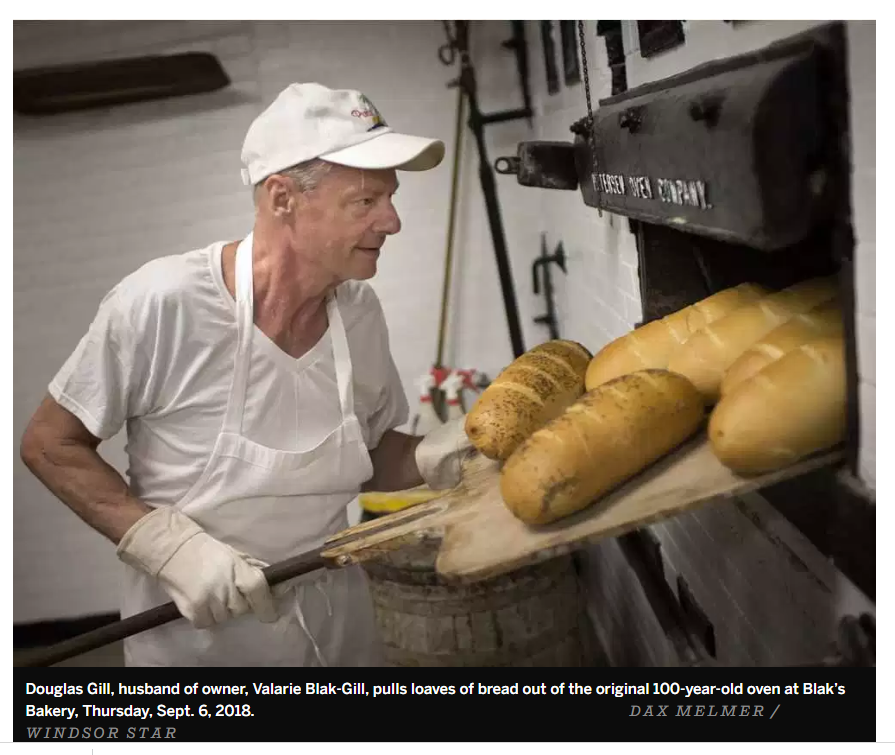 When you try the slice of that rye bread it is incredible to realize, that you are eating something that actually has traces of century old history and tradition in artisan bread making!
On Saturday people were flocking to the Bakery, which was hosting an open house for customers with free coffee and delicious cupcakes, BBQ and hot sandwiches served for small donation in order to support Heart & Stroke foundation in the name of the  late Parents and former  owners –  Elsie and Peter Blak.  Blak's Bakery is also very well known for their involvement in Polish-Canadian community and for their generosity and support of numerous charities in Windsor – Knights of Columbus, Polish Village at the Carrousel of the Nations, local TATRY – Song & Dance Ensemble, Insight Advantage – to name a few.  Mrs. Elsie Blak, who passed away in July 218 and volunteered for so many years in Catholic Women League,  was truly a  pillar of  RC Holy Trinity Parish community here in Windsor.
In the early 30th, during the Great Depression, the owner – Peter Blak Sr. was giving regularly  bread for free to the single mothers and widows with children. He used to tell them – "As long as I have flour and as long as there is enough coal for the owen to bake another load, you can always return and get more  bread for the next day".
An open heart and goodness – that hasn't  changed over four  generations – this is what makes Blak's Bakery baked goods outstanding and unique.
Congratulations, Happy Birthday and all the best for the next 100 years to come! Windsor is truly lucky to have you.
Text: Maria Wojewnik
Photos: Blak's Family archives,
"Windsor Star" – Dax Melmer,
Maria Wojewnik