Global Maintenance Co. is a maintenance company in Windsor, Ontario, Canada. Our maintenance services include interior and exterior services on residential and commercial properties.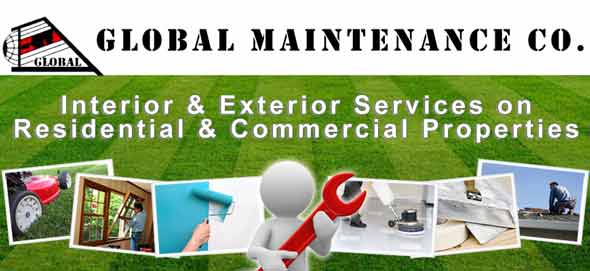 Services
Global Maintenance Company provides professional janitorial services and general home maintenance. They are qualified and experienced in interior and exterior residential and commercial property renovations such as: painting, drywall, ceramic work, roofing, window and door installations. Recommendations and quotations on renovation projects are prepared by qualified personnel. Landscaping and yard maintenance services are available at competitive prices.
Contact Global Maintenance today for a quote on any maintenance services you need.
Board of Directors
Jerry Barycki, Barbara Koczwara, Steve Polewski
Contact Information
Address:
Global Maintenance Co.
5101 South National Street
Windsor, Ontario N8Y 4Z5
Telephone: (519) 944-2810
Administration Telephone: (519) 945-2054
Fax: (519) 944-4851
General Manager: Greg Matjaszewski
Website: globalmaintenancewindsor.com