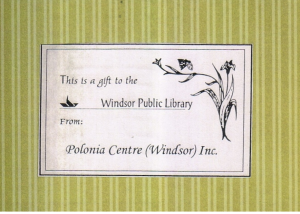 For quick reference enclosed is the link to the Collection of  the Polish Language materials (books and DVD's ) currently available at WPL.
Since 2000, Polonia Centre (Windsor) Inc. has made annual donations to the Windsor public Library. As of October 12, 2019,  our donation totals $ 11,000 for the purpose of acquiring newly published Polish language materials – such as books, DVD's and CDs.
These items are purchased on yearly basis and Windsor Public Library patrons may have their input by sending their own recommendations on WPL website (to do so you need to be logged into your WPL account)  or email your suggestions (in English)  to:  Mrs. Nancy Peel who is the  Public Service  Manager for all  WPL  collections at:   npeel@windsorpubliclibrary.com
Any books and materials donated by Polonia Centre are marked with the special information label usually inserted inside the book on the front page. Effective 2014,  the most recent purchases are marked with the new label as shown below.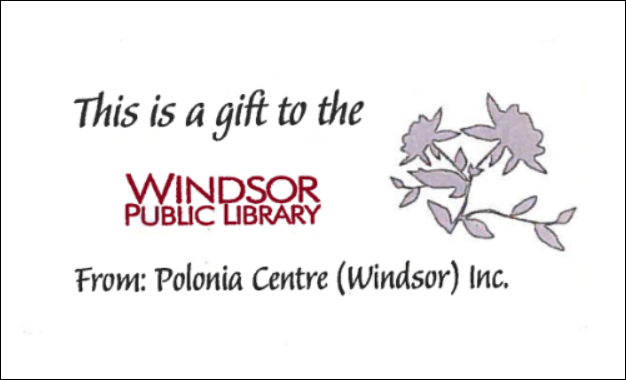 Should you have any concerns or questions please  forward them to the PoloniaWindsor.ca Website Publisher under  the following link.