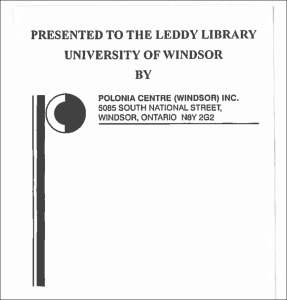 Enclosed is the link to the Polish Collection at the Leddy Library entirely funded by Polonia Centre donations.
Since 2000, Polonia Centre (Windsor) Inc. has made annual donations to the University of Windsor Leddy Library.
As of  October  12, 2019, our donation totals $ 56,500.
As for accessing the collection, community patrons are welcome to come to the library to use materials in-house. To find any book in the collection they only have to search the phrase "Polonia Centre doanation" (with the quotation marks) and they will get a list of all items purchased from the fund. Even if they only put in one word "Polonia" it will still work.
Above is a scanned copy of the book plate used for books purchased by Leddy Library trough the Polonia Centre donations.
For borrowing materials, there is a fee associated with getting community borrower's card. It si $ 20.00 for 4 months or $50 for one year.
If you would like to provide additional information please  forward it to the  PoloniaWindsor.ca  Website Publisher under  the following link.