The summary of the 2014/2015 School Year activities.
(School Bulletin No 3 attached under the link above). Enclosed are some highlights: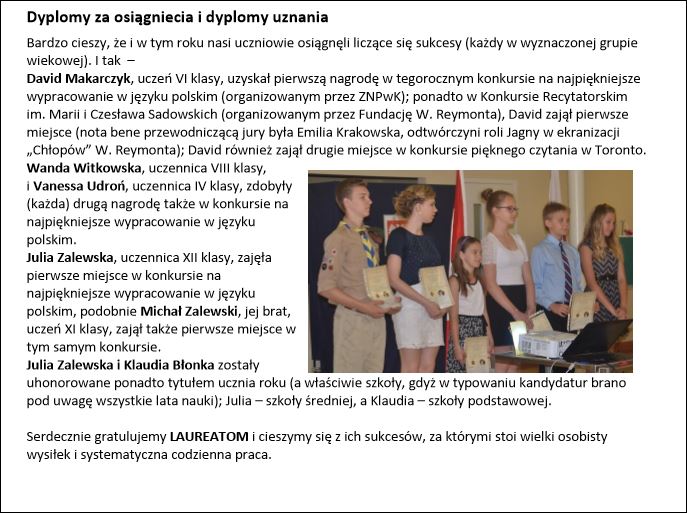 The Polish  Language School annual closing ceremony to celebrate the end of the school-year 2014/2015
took  place on Saturday, May 30, 2015, from 9:00 a.m. to approximately 11:00 a.m.
9:00 a.m. Holy Mass at Holy Trinity Church, followed by a group photo outside of the church.
Meeting in the Church Hall consisting of:
Report on the yearly activities and achievements
Handing in of diplomas and awards
Bidding farewell to Grade 12 students
Artistic program performed by particular students
Handing in grade completion certificates
Closing remarks.
Poetry Contest – Results
On the 19th of April 2015 a Poetry Contest took place at the Polish School. The theme of the contest was the thought of the poet: "Let us hurry to love people."
The students from 0-VII class, High School and Polish-English class have presented the poems, which authors were polish poets and writers. The young children have chose usually Jan Brzechwa, Julian Tuwim, and Wanda Chotomska poems, the older have decided to declaimed Jan Twardowski, Adam Mickiewicz or Adam Asnyk lines.
All contest's members have received diplomas and sweet gifts, and the winners also books. There are the results of Poetry Contest 2015:
I GROUP (class: 0, I and Pol.-Eng.)
I place:
Johnatan Snively
II place:
Oliwia Broclawik
III place:
Krystian Fila
II GROUP (class: II and III)
I place:
Marysia Zalewska,  Alicja Stokowska
II place:
Nicole Fila
III place:
Julia Kosciuk
III GROUP (class: IV and V)
I place:
Jakub Paczesniowski
II place:
Maya Jaglarz,   Fabiola Skrzypek
III place:
Anika Skrzypek
IV GROUP (class: VI and VII)
I place:
David Makarczyk
II place:
Victoria Kaim
III place:
Kamil Stokowski
V GROUP (High School)
I place:
Julia Zalewska
II place:
Michal Zalewski
III place:
Zuzanna Jaglarz
We would like to thank all students for their commitment, engagement and hard work. Congratulations to our able, young and talented children!  It is possible to buy a DVD covering the Poetry Contest. Contact number: sister Anna Maria 226 260 1958.
Poetry contest at the Polish School
On the 19th of April 2015 at 15:00 at Holy Trinity R.C. Church (1035 Ellis Street East, N8X 2J2) we will be organizing a poetry contest for our Polish Language School students. This year's motto of  the contest is priest Jan Twardowski's thought: "Let us hurry to love people"."Ladybug priest", "polish Faust" or "court John XXIII poet" are some of the nicknames of the priest. Students of Polish School in Windsor will present not only Twardowski poems but also different, famous polish poets. They will show their oratorical skills in front of jury soon.
During the intermission of the  contest there will be an opening of the  gallery of drawings presenting the artwork of the youngest students ranging from classes: I-IV and Polish-English class. That will be the only chance for viewers to see and admire our children's art skills. On the 19th of April we will learn what the kids are dreaming about and which are their favorite cartoon characters.
Everyone is welcome!
……………………………..
Konkurs recytatorski w Polskiej Szkole
Dnia 19 kwietnia 2015 o godz. 15:00 w sali przy Kosciele Swietej Trójcy w Windsor (1035 Ellis Street East, N8X 2J2) odbedzie sie konkurs recytatorski. Tegorocznym haslem konkursu jest mysl Jana Twardowskiego: "Spieszmy sie kochac ludzi". "Ksiadz od biedronki","polski Faust" czy "nadworny poeta Jana XXIII" to tylko niektóre z okreslen, jakimi znakomity poeta zapisal sie w historii. Uczniowie Polskiej Szkoly w Windsor zaprezentuja wybrana przez siebie twórczosc zarówno ksiedza Jana Twardowskiego, jak i innych wybitnych poetów polskich. Juz niebawem uczestnicy konkursu pochwala sie swoimi umiejetnosciami oratorskimi przed komisja i widownia.
W przerwie konkursu recytatorskiego zostanie otworzona galeria z pracami-rysunkami uczniów klas: I-IV i klasy polsko-angielskiej. Uwaga!! Tylko w tym dniu bedzie mozna podziwiac plastyczne umiejetnosci najmlodszych i juz 19 kwietnia dowiemy sie, o czym marza dzieci i jakie sa ich ulubione postacie z bajek.
Serdecznie zapraszamy!