The Polish Canadian Students' Association of Windsor (PCSAW) is a fairly new organization in the Windsor area, having been established on November 15th 2008. This diverse youth group currently consists of high school, college, and university students.
Our initiatives are city and region based, centered on emphasizing and sustaining Polish culture. We are a group of strong and willing individuals between the ages of 16 and 30 who are eager to acquire leadership skills whilst encouraging youth involvement and networking, starting in our Polish-Canadian community in Windsor, Ontario. We are an organization that also teaches the future generation on how to stay connected to their heritage and roots. Our main mandate is "Leadership, Unification and Solidarity." It is always important to give back to the community. That is why every year, PCSAW volunteers their time and energy to various Polish events.
PCSAW is a non-profit association, therefore it relies on generous contributions from sponsors and through profit from events. Polonia Centre Windsor (Inc.), the Polish Canadian Business and Professional Association of Windsor, and the Canadian Polish Congress – Windsor-Chatham Branch have been the main contributors for our group in which we are eternally grateful.
There is no fee to join, so if you are a young Polish-Canadian in the greater Windsor area and are interested in attending the next meeting, send us an email!
For more information please visit us at www.pcsaw.ca or email us at pcsaw.info@gmail.com
You can also find us on facebook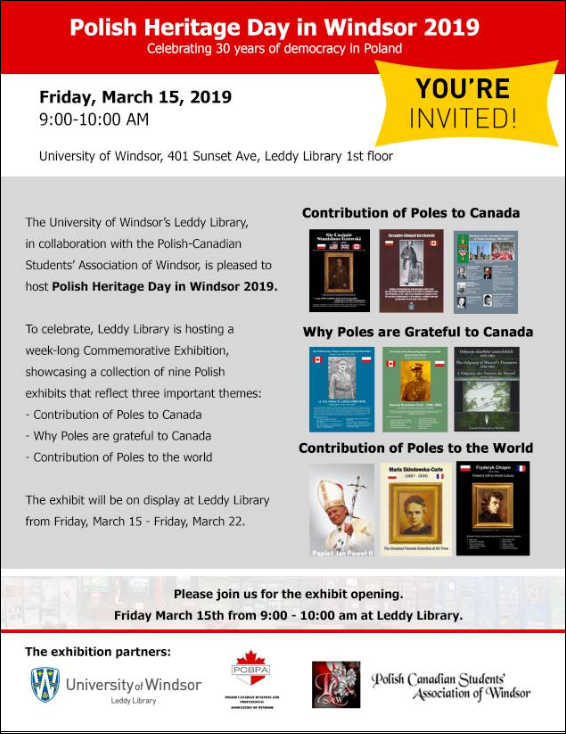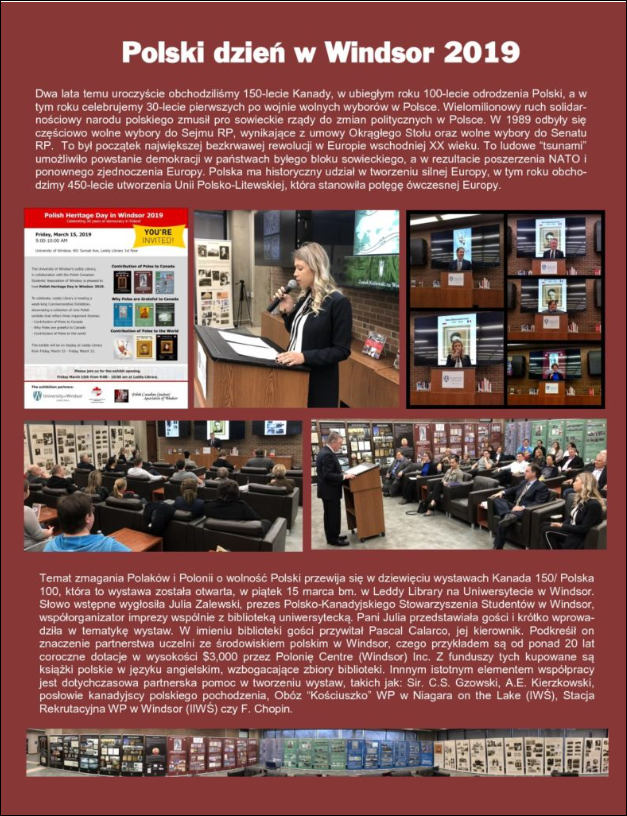 The above document can be viewed here.
Most recently PCSAW participated in organizing Radwanek Exhibit at the Leddy Library University of Windsor from Nov.29 until December 4th , 2019.
The full report from this commemorative event is available for viewing here.
Polish Heritage Day Posters: Courtesy of Jerry Barycki  and Leddy Library –  University of Windsor
Jerzy Radwanek Exhibit Poster:  Courtesy of Jerry Barycki and Leddy Library – University of Windsor
PCSAW EXECUTIVE TEAM 2019:
President – Julia Zalewski,  juliazalewski@hotmail.com
Vice-President – Peter Sawicki,  sawickip@uwindsor.ca
Secretary – Irena Sziler
Treasurer – Ania Barycka
Address: Kamloops St. ,Windsor, ON, N8W 5T8