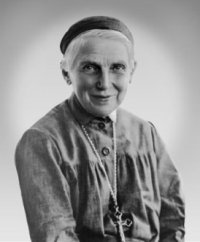 Ursuline Sisters of the Agonizing Heart of Jesus
The Congregation of the Ursuline Sisters of the Agonizing Heart of Jesus was founded in 1920 by Saint Ursula Ledóchowska,as a new branch of the Ursuline Order. The Sisters live and serve where need arises, among all races, creeds and cultures.
They are devoted to the service  His people through the Church and Her Apostolic Mission.
In conjunction with Bishop Fabbro's appeal, The Polish Ursuline Sisters would like to provide the online version of the Response Letters regarding Physician Assisted Suicide , for those wanting to express their views directly by writing to the three instances of the Canadian Government involved in this important Bill .
We have made the link to the Bishop's a Appeal  available online (through the following link) and   EXAMPLES  OF  LETTERS  for those who are concerned about legalizing PAS (Physiscian Assisted Suicide) and therefore wanting to express their views directly to the Supreme Court of Canada, Local Members of Parliament and Canadian Minister of Health by sending  them letters via Canada Post.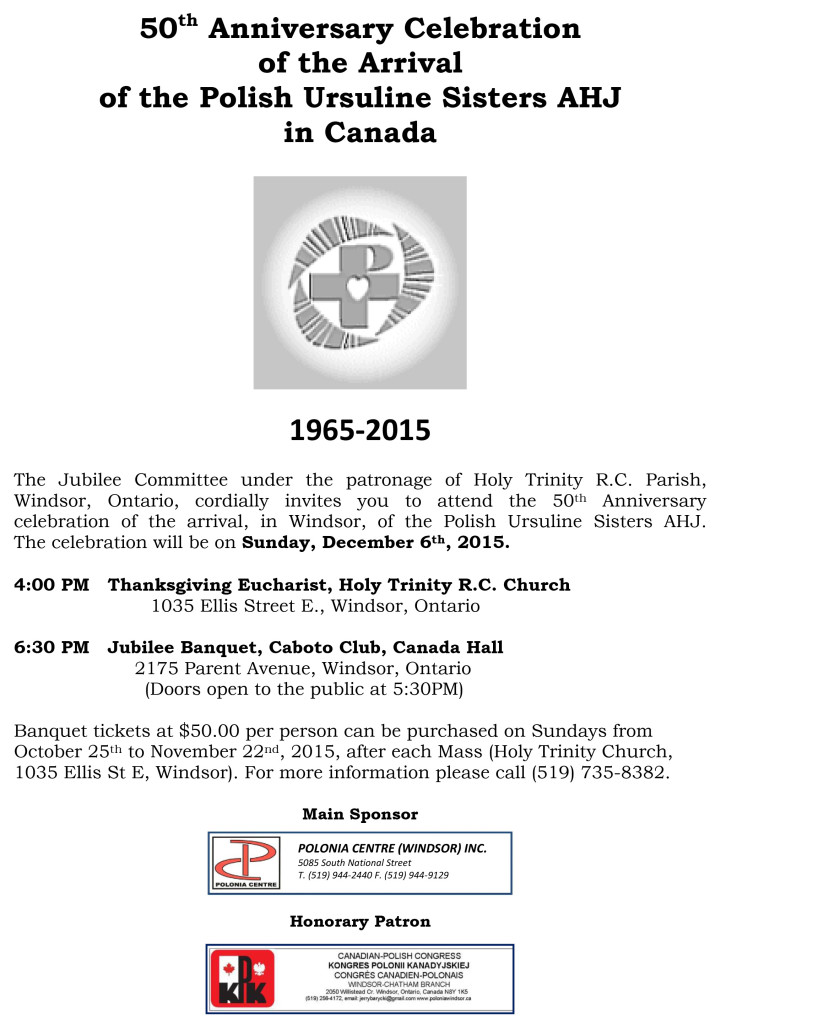 Constitutions of Ursuline Sisters, AHJ
Testament of St. Ursula Ledochowska, Foundress of Ursuline Sisters, AHJ
Motherhouse: Poland, Pniewy; Generalate: Italy, Rome
The first convent in North America was established in Windsor, Ontario (1965) thanks to Msgr. Lawrence A. Wnuk, P.A.
In Windsor the Sisters are involved in "Polonia" activities, in teaching of Polish language and culture, by cultivating Polish customs and traditions. They also teach in Canadian schools – elementary and secondary. In cooperation with the Parish, they try to implant Christian values in daily life, especially of the young people (Day Care, Eucharistic Crusaders).
Our goal is to build a multicultural community living in peace and harmony:"Ad maiorem Dei gloriam."
Links:
Nasze poczatki w Kanadzie – cz. I      cz. II      cz. III      cz. IV    cz. V     cz. VI    cz.VII      cz.VIII
Obchody 45 lat Sióstr Urszulanek w Windsor 4.12.2010
Exhibition in the Polish Senat in Warsaw of St. Ursula Ledochowska, Foundress of Ursuline Sisters, AHJ
www.urszulanki.pl
Canadian Convents
1371 Langlois Avenue
Windsor, ON N8X 4L8
Phone: (519) 256-7115
55 Adelaide North
London, ON N6B 3G5
Phone: (519) 439-1443
1548 Prince of Wales
Ottawa, ON K2C 1P1
Phone: (613) 224-1616
ST. URSULA (JULIA) LEDÓCHOWSKA was born in Loosdorf, lower Austria, in 1865. In 1883, her family moved to Lipnica Murowana, near Cracow in Poland. In 1886, she entered the Ursuline Order in Cracow and in 1904 she was elected superior of the convent. She went to St. Petersburg in 1907 accompanied by two sisters, to administer St. Catherine's boarding high school for girls. In 1908 the growing community in Petersburg became an autonomous Ursuline convent. When war broke out in 1914, Mother Ursula was exiled from Russia; she continued her apostolic work in Scandinavia. Once the war was over, she returned to Poland with her religious community and a group of Polish orphans and settled in Pniewy, near Poznan. There she founded the Congregation of the Ursuline Sisters of the Agonizing Heart of Jesus that she administered until the end of her life. Her work earned her high awards from the Church and the State. She died in the odor of sanctity in Rome, on May 29, 1939. On June 20, 1983, John Paul II beatified Mother Ursula in Poznan, Poland. He canonized her on May 18, 2003 in Rome. In 1989 her incorrupt body was transferred from Rome to Pniewy and placed in the sanctuary at the Motherhouse. She is the patron Saint of 17 parishes and 12 chapels, not counting the chapels at the Ursuline convents. Among others, she has been the patroness of the Poznan Diocese since 1977, of the Polish Landlords' Association since 1997, of the city of Sieradz since 2006, of 8 schools, 6 nurseries, 2 hospices, 4 scout associations and of other institutions, organizations and groups.
More information on St. Ursula and the Ursuline Sisters can be found at: www.urszulanki.pl
In Pniewy, before St. Ursula's relics, a continual novena is held for prayer intentions and in thanksgiving for graces received through her intercession. Requests for prayer through the
intercession of St. Urszula Ledochowska and acknowledgements for received graces can be
sent to: intencje.pniewy@urszulanki.pl
ZGROMADZENIE SIÓSTR URSZULANEK SJK
Szczególna misja Zgromadzenia Sióstr Urszulanek Serca Jezusa Konajacego w Kosciele jest gloszenie Chrystusa – milosci Jego Serca (Konstytucje Zgromadzenia)
The Congregation' s special mission in the Church is to proclaim Christ – the love of his Heart. (Constitutions of the Congregation)
Urszulanki Serca Jezusa Konajacego pragna isc droga ewangelicznego radykalizmu i siostrzanej sluzby – przede wszystkim najbardziej potrzebujacym – przez:
*swiadectwo zycia osobistego i komunii we wspólnocie,
*zaangazowanie katechetyczne, wychowawcze i nauczycielskie, charytatywne i misyjne.
The Ursulines of the Agonizing Heart of Jesus endeavor to proceed on the way of radical fidelity to the Gospel and sisterly service especially to the most needy, by:
*giving witness through their personal and community life
*involvement in catechetical, educational, teaching, charitable and missionary activities.
Zgromadzenie Sióstr Urszulanek Serca Jezusa Konajacego liczy obecnie ponad 900 sióstr, pracujacych w 100 wspólnotach, w 14 krajach (Argentynie, Bialorusi, Boliwii, Brazylii, Filipinach, Finlandii, Francji, Kanadzie, Niemczech, Polsce, Rosji, Tanzanii, Ukrainie i we Wloszech), na 5 kontynentach.
At present, the Congregation consists of over 900 sisters in 100 communities in 14 countries on 5 continents:Argentina, Belarus, Bolivia, Brazil, Canada, Finland, France, Germany, Italy, the Philippines, Poland, Russia, Tanzania and Ukraine.
Matka Chrystusa i Matka Kosciola, oddana calkowicie osobie i dzielu swego Syna, jest dla kazdej urszulanki Serca Jezusa Konajacego wzorem oddania sie Bogu i ludziom. Zgromadzenie pragnie realizowac swa misje pod kierunkiem i macierzynska opieka Tej, która czci jako Gwiazde Morza. Slowa Maryi: "Oto ja sluzebnica Panska, niech mi sie stanie wedlug twego slowa" – sa haslem Zgromadzenia.
The Mother of Christ and of the Church, wholly devoted to the Person and work of her Son, is for each Ursuline sister of the Agonizing Heart of Jesus the model of devotion to God and the people. Under the direction and motherly protection of Our Lady, celebrated as the Star of the Sea, the Congregation seeks to fulfill its mission. The words of Mary: "Behold, I am the handmaid of the Lord. May it be done to me according to your word" are the motto of our Congregation.
| | |
| --- | --- |
| Links: | *Exhibition in The Polish Senat in Warsaw of St. Urszula Ledóchowska; |
| | *Testament; Constitutions. |
NOWENNA za przyczyna sw. Urszuli
O Jezu, Sercu Twemu polecam …..
Spojrzyj i uczyn to, co Ci Serce Twe wskaze. Dozwól dzialac Twemu Sercu. O Jezu, licze na Ciebie, ufam Ci, oddaje Ci sie zupelnie, jestem pewny Ciebie.
O Serce pelne milosci, cala ma ufnosc pokladam w Tobie, gdyz sam z siebie zdolny jestem do wszystkiego zlego, ale spodziewam sie wszystkiego po Twojej dobroci. Amen.
Dla zaslug Pana naszego Jezusa Chrystusa przyjmij, o Boze, modlitwy zanoszone do Ciebie za wstawiennictwem swietej Urszuli, wiernej nasladowczyni cnót Najswietszego Serca Syna Twego, i udziel nam lask, o które z ufnoscia prosimy. Amen.
Swieto Urszulo, módl sie za nami!
NOVENA through the intercession of Saint Ursula
Oh, Jesus, I commend to your Heart …….. Look and follow your Heart's desire. Allow your Heart to act. Oh, Jesus, I count on You. I put my trust in You. I surrender myself completely to you. I am sure of you. Oh, Heart, filled with love, I put all my trust in You, since I, myself, am capable of committing all evil, however, I expect everything from your goodness. Amen.
By the merits of our Lord Jesus Christ, accept oh, God, the prayers offered to You through the intercession of Saint Ursula, faithful imitator of the virtues of the Heart of your Son, and grant us the favours we are confidently asking for. Amen.
Saint Ursula, pray for us!