Attention  Fans, Members and Visitors:  If you would like to go directly to our own home page, please visit  us  at our own  Windsor White Eagles Sports & Recreation Website. 
Congratulations to Windsor Polonia Senior Mens Soccer Team
Congratulations to Windsor Polonia Senior Mens Soccer Team for winning Playoffs Championship
Windsor Polonia Senior Mens Team Crowned Playoff Champions. The Windsor & District Soccer League would like to congratulate Windsor Polonia Senior Mens team on their hard fought 2-1 victory over Windsor Croatia on Sept./28/2014. The game was tied 1-1 after regulation time and Windsor Polonia won 3-2 on penalty kicks to end a very exciting game. This game brings to and end the 33rd season of Windsor & District soccer league action. We wish all clubs & teams the best on what once again was a very exciting season.Windsor & District Soccer League Board.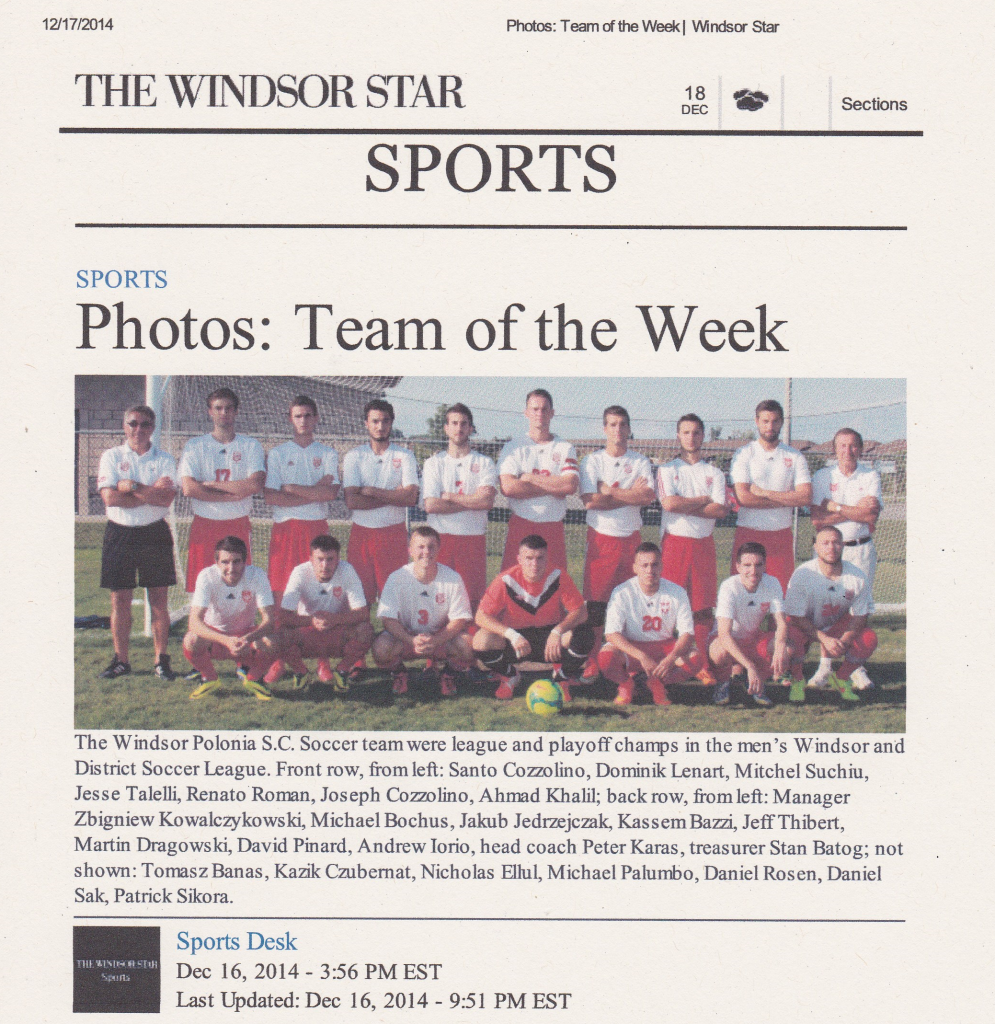 Penalty kicks 4:2 – Polonia SC  is a Playoff Champion!!!!
Polonia SC is a League Champion!!!
Also Polonia U-15 Girls won League, Playoff and kickoff Cup – Triple Crown!!!
 ______________________________________________________________________________________
"Polonia RULES – POLONIA PANY
It was a great year for Polonia SC teams.
Thank you to All Players, Coaches, Managers, Parents, Sponsors…"

– Roman Sak – Windsor Polonia SC  President
_______________________________________________________________________________________
Summary of Men's Soccer Season 2014
Polonia Men's Soccer Season 2014
This years Polonia Senior Men's soccer team had an extraordinary season and one of the best in club history! The season started off with the same team as season prior with the addition of a few players coming from other teams that folded from the league, Tecumseh and Teutonia to name 2.
The season started off slow with a loss to the previous seasons winner Croatia in the last minute of the game, 2-1. As the season went on though, the team gained momentum and started on a winning streak to carried them to land near the top of the table. A few more tough loses to Hellenic and Leamington put the team about even on the season going into the Walter Lomas Tournament. In this tournament, Polonia played against Leamington in a game that marked the turn around in the league. Polonia fell to Leamington 9-1 on a rainy and sub-par Friday night in June. After this loss, the team had a massive turn around.
Polonia Men than went on a 10 game unbeaten streak, in the process winning 8 games and tying two, against the toughest of teams in the league. After another tough loss to Leamington, Polonia than went on to win 5 of the next 7 games, and tying the two other ones, on course to tie Croatia for the league leader and season Champions, but besting Croatia because of a head to head tiebreaker win, securing a league championship for Polonia Men's Soccer Team!
The playoffs went into a chilly early October weekend, having Polonia play Windsor Serbs, and Croatia playing Hellenic. Undermanned Polonia came out firing and took a 3 goal lead against the Serbs early and even though letting in 2 late goals, held on to win 4-2, heading into the finals against heavy favourite Croatia.
The final saw Polonia at 10 men to start the game, given a high number of injuries and health concerns, Croatia though, at full strength. Croatia dominated to game from the first whistle, controlling possession for majority of the match. Late in the first half though, a moment of magic occurred when Santo Cozzolino scored a beauty of a goal from a free kick, putting Polonia ahead by 1, heading into the half. Late in the second half, trying to hold onto a one goal lead, Croatia tied it up late with a great effort from long distance that Jesse Talelli couldn't keep out of the net even though making remarkable saves to this point.
The game went into penalty shots to settle the tie and the championship. Polonia keeper Jesse Talelli stood tall, saving the first two shots from Croatia, and Polonia netting the first 3 shots. A goal by Croatia on their fourth shooter set up a goal and win for Polonia. Mike Bochus stood up and put a beautiful shot past the Croatian goalkeeper, giving an exasperated Polonia team the title and Playoff league championship!!
Congratulations to all the players and fans of Polonia Men's Soccer on a spectacular season of soccer! Till next year!!
(Courtesy of Piotr Karas)
History


Organized sports within Windsor's Polish community began in 1951, with the creation of the "Polish Vets", a men's soccer team made up largely of former soldiers, and organized and funded by Post126 of the Polish Army Veterans Association. Although the team went on to win the Essex County Soccer Association's League Championship just one year after its inauguration, by 1953, it had dissolved. Several attempts were made to revive the winning soccer team, but without success. A junior team which was formed years later, won the Essex County League championship in 1974. But it did not continue on past that season.
In spring of 1982 a group of sports enthusiasts decided to start Polonia Sports Club of Windsor Ont. Many attempts were made in previous years to establish a sports club but all of them had failed after a short time. The Polish Canadian Sports Club of Windsor known and operating as "Polonia Sports Club did succeed and this year will be celebrating its 28th Anniversary.
Windsor's Polonia Sports Club was founded in 1982 and registered with the Province of Ontario with the intention of keeping sports alive and thriving within Windsor's Polish community. The Club offers a variety of recreational and sports activities to athletes of all ages, including soccer for adults, seniors, juniors and children, as well as tennis, volleyball, table tennis, fishing and skiing. Today more than 200 people – players, trainers and organizers – are members of the Sports Club.
The first members and senior players in 1983 included: Tony Jaroszewicz, Gusto Bago, Peter Jaroszewicz, Jan drab, Stan Murawski, Zbigniew Kruba, Krzysztof Smaczynski, Roman Sak, Andrzej Turlik, Laco Barta, Grzegorz Kepa, Marian Sak, Jurek Niec, Ryszard Furman, Piotr Niemasik, Zbigniew Kowalczykowski, Marek Markowski, Jozef Wroniak, Tom Bochus, Stanislaw Wojcik, Paul Bochus, Artur Krzywinski, Stanislaw Sak,, Beniek Jakowiec, Jan Kaszuba, Ryszard Kulesza, M. Brakic and Zdzislaw Roznawski.
In 1984 Polonia SC senior team joined the Windsor and District Soccer League. In 1986 Polonia SC was very instrumental in forming an international league known as "Michigan Ontario Soccer League" where the senior team played for 5 years. Due to some challenges and border crossing difficulties, in 1990 the team joined the Inter City League in which they won the championship title 5 times and were the play-off champs 3 times. In 1999 the team rejoined the MOSL where they played till its merger with the Windsor and Soccer Leagues and is playing until today.
Since the early 1990s, the Club's senior soccer team has won several championships in the Inter City Soccer League. The junior team is active in the Windsor District Soccer League. Each year in Windsor, a tennis tournament is held for the "Polonia Cup". The Sports Club's volleyball team, which played its first matches at a beach in Colchester, is considered a recreational team, but has won some important matches, including a victory over a Canadian team, marking the 10th anniversary of Polonia Sports Club. In the winter, skiing trips to places as far away as Quebec, New York State, Vermont, Alberta and British Columbia have been organized. Many skiers from within the Sports Club have taken part in competitions during these trips. Since 1994, the Club has also offered opportunities for young people to participate in the game of hockey.
Older players (30 and over) continue playing for Polonia in the Recreational Soccer League. Most of the players are former members of the first team.
During the years Polonia SC represented Windsor in many tournaments in Ontario, Michigan, Illinois, New York and Houston TX.
Polonia SC would not exist without many hard working members such. Paul Bochus, Roman Sak, Stan Batog, Zbigniew Kowalczykowski, Stan Sak, Jurek Niec, Zygmunt Karas, Elek Piatkiewicz, Robert Sznurkowski, Emil Domaleczny, Marek Zalewski and many more.
WADSL is also the league where 3 of our junior teams are playing.
Windsor White Eagles Sports & Recreation (former Polonia Sports Club) Board of Directors

President
Roman Sak
V. President
Marek Zalewski
Secretary
Christina Riccardi
Treasurer
Stan Batog
Directors
Ziggy Kowalczykowski, Jeff Turner
For more information please visit  us  at our Windsor Polonia Sports Club Website
Polish Veterans Soccer Team
1952

During the years of 1951-52 a soccer team by the name of "Polish Vets" was organized and sponsored by Post-126 of the Veterans of the Polish Army. The team was comprised of former soldiers of the Polish Army, whose faith brought them to Canada by the turmoil of Second World War. "Polish Vets" team played in Essex County Soccer Association with some success and in 1952 they captured the League Champions title.Former players of that team, Mr. Jan Jaworski-captain and Edward Solecki are still living in Windsor.
Junior Polonia Soccer Team
1973-74

In 1973-74 Zdzislaw Kulesza was coaching a junior U-12 soccer team which has won a championship of the Western Regional Youth Soccer League. The best player of the team Rick Kulesza scored 39 goals in 20-ty games in that season. The members of that team: Rick Kulesza, Andrzej Siender, Edward Kowalski, Stefan Polewski, Jan Drab, Piotr and Toni Jaroszewicz went on to play for the senior team in the 1990s.
Polonia Rockets
Under 12 Soccer Team

Polonia Rockets Team was founded in September 2008 and became the first girls team in Windsor Polonia Sports Club's history. In 2009 Polonia Rockets finished third in W.A.D.S.L. U-12 Division. The same year they won 18th Annual St.Thomas Select Tournament and they were finalist in Kitchener Soccer Tournament(lost in shootout). In 2010 They reached semi-final of Soccer Fest Tournament in St. Thomas and as of Aug. 4th they are the only unbeaten team in U-12 Division of W.A.D.S.L. and looking to improve last year standing.
Polonia Oldtimers
2009

Second senior team "Oldtimers" Over 30 continues to be a huge success in the Windsor Recreational Soccer League.
Polonia Eagles
Under 15

Polonia U-15 boys team has been playing together for last several years. Coach Jurek Niec managed to keep them together and improvement has been steady. The team plays competitive soccer in Windsor and District Soccer League. The team made the playoffs since going competitive in 2007. In 2009 they won WADSL, Kick Off Cup and made the playoffs final. This year team has won: Jaguar Tournament in Novi-Michigan, WADSL, Kick Off Cup, Under-15 League Championship without loosing a game. Dedication of Coach Jurek Niec, Manager Jill Kanwischer and parents and players bring results that we are proud of.
Polonia Seniors
1990 League Champions

In this photo is the team whose greatest achievement was to be crowned as the best team in the league since the inception of the "Polonia" Sports Club. In the 1990s, Polonia won the League Champion title five times and Play-offs Cup three times in the Inter City Soccer League.
Polonia Seniors
1990 League Champions
Windsor Star Article

Polonia's very successful 1990 soccer season was documented in the Windsor Star.
Coaches and Managers
Our teams are being coached by the following individuals:
Windsor Polonia SC Group 2003
Head Coach: Len Riccardi
– Manager
Polonia Eagles 1999
Jeff Turner – Head Coach
Christina Riccardi – Manager
Polonia Eagles 1997
Marek Zalewski – Coach/ Manager
John Daskalakis – Coach
Windsor Polonia SC First Team Seniors open competive premier division.
Zbigniew Kowalczykowski  – Coach/ Manager
Peter Karas – Coach
Over Windsor Polonia  SC Over 45
Pawel Bochus – Coach
Peter Bednarek – Coach
Miro Tot – Manager