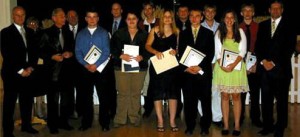 Polonia Centre Academic Awards
The Polonia Centre Academic Awards encourage and support students of our community in their pursuit of higher education. We are looking for individuals who have made significant contributions of time and energy to the Polish community of Windsor. They also have made a positive contribution to their school through involvement in extracurricular activities while demonstrating a competent level of academic achievement.
Criteria of Eligibility:
1. Must be a full time student and member of the Polish community in Windsor, currently attending or planning to attend a post secondary institution in the fall leading to a degree or diploma from an accredited community college or university.
2. Actively involved in the cultural and social life of the Polish community.
3. Evidence of Permanent Residence or Canadian Citizenship
Required Documents:
1. Completed application form.
2. Official transcript and most recent report card or final marks.
3. One letter of recommendation from an instructor written on the school's letterhead and delivered in a sealed envelope to ensure confidentiality.
4. Two recent photographs (1 ½ x 1 ½) with your name printed on the back.
Master and PhD Candidates only:
In addition to the required documents above, Master and PhD Candidates must include:
5. Final undergraduate transcript and copies of all degree/diplomas received to date.
6. Letter of Acceptance to a Graduate program. Please note that your filing date will be July 30, 2011.
Restrictions:
A student may receive funding from this program once in each level of study.
Deadlines:
Applications must be submitted by close of business on May 20, 2011 and must be accompanied by all requested documents and delivered between regular business hours to: Polonia Centre (Windsor) Inc.,
5085 South National Street, Windsor, Ontario, Attn: Awards Committee. You will receive a response in early June. The filing date for Master and Ph.D. candidates is July 30, 2011 with notification to the student in late August.
Incomplete submissions will not be considered or reviewed
For further information: send e-mail to Halina at zhroznawski@xplornet.com