PC Management Partners is a real estate management company in Windsor, Ontario, Canada. Our real estate management services include financial and professional services.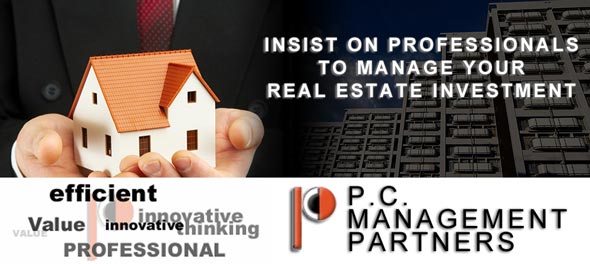 Who We Are
PC Management Partners is a diversified company offering management of real estate assets for prudent owners and investors. Our primary purpose is to maximize the profit and capital appreciation of each property, while assisting the individual owner to meet his objectives.
Through quality professional property management services and innovating thinking, our ultimate goal is to protect and enhance the value of our client's investment.
Real Estate Management Services
Financial Services
Financial responsibility to the client is a must at P.C. Management. Complete budgetary, collection and marketing services shift the weight of financial accountability onto our knowledgeable staff without isolating the owner.
Through consistent reporting, clients are kept fully informed of their asset's financial status.
P.C. Management provides the following services depending on it's client's needs and investment objectives.
Reliable Rent Collection
Regular Accounting Reports
Monthly Financial Statements
Annual Budget
Legal Negotiation
Property Advertising
Professional Services
P.C. Management personnel are carefully selected and trained to perform according to the company's high standards of excellence.
We realize that a good relationship between tenants and management is vital and attainable through responsible, friendly personnel.
P.C. Management is comprise of a team of professionals including CPM in the real estate field. The CPM (Certified Property Manager) designation is awarded by the institute of real estate management. Property managers who have earned this distinction are recognized as professionals and experience and education, and who adhere to a strict code of professional ethical standards. Through our professional affiliations with the following institutions and associations, we assure all our clients of the highest professional standards in the real estate industry:
The Real Estate Institute of Canada
The Canadian Real Estate Association
Institute of Real Estate Management
Ontario Real Estate Association
The Windsor-Essex County Real Estate Board
Contact Information
PC Management Partners
5101 South National Street
Windsor, Ontario N8Y 4Z5
Telephone: (519) 944-2440
Fax: (519) 944-4851
Website: pcmanagementpartners.ca