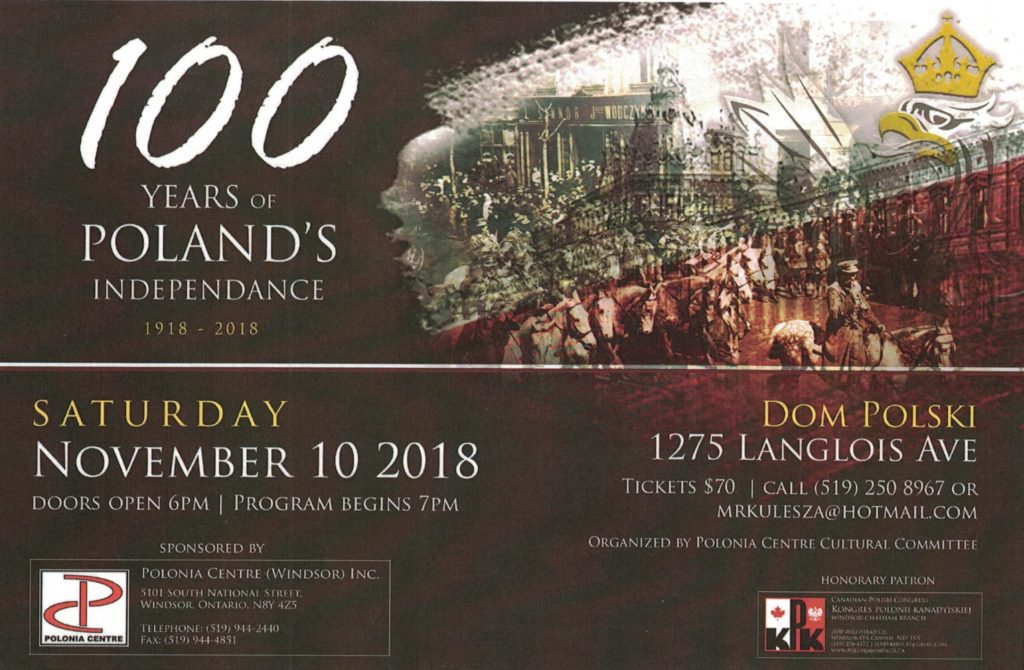 Saturday, November 10th, 2018. Doors open 6pm. Program begins at 7pm
Tickets – $70.00 per person, for tickets call (519) 250-8967 or email: mrkulesza@hotmail.com,
Event is organized and sponsored by the Cultural Committee of Polonia Centre (Windsor) Inc., Barbara Koczwara, 519-735-8382, and Maria Kulesza,  519-250-8967.
Honorary Patron: Canadian Polish Congress
              The brief history of the National Independence Day of Poland
The restoration of Poland's independence was gradual. The 11 November date chosen is the one on which Marshal Józef Pilsudski assumed control of Poland – as seen on the image below: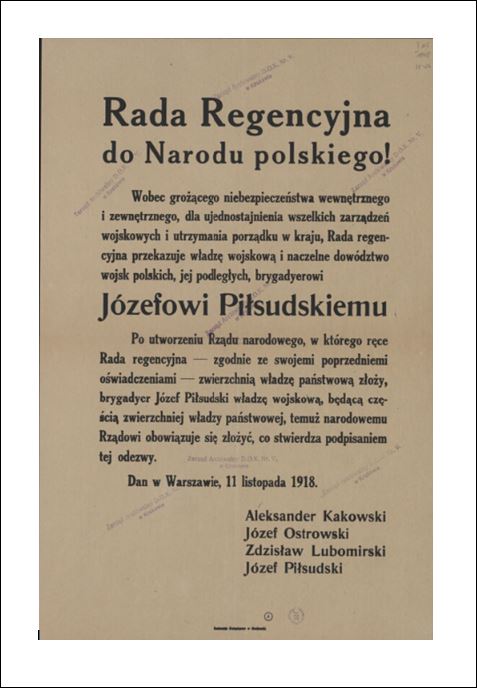 The holiday was constituted in 1937 and was celebrated only twice before World War II. After the war, the communist authorities of the People's Republic removed Independence Day from the calendar, though reclamation of independence continued to be celebrated informally on 11 November. During this time the November 11th Independence Day marches, alongside the Constitution Day on May 3rd celebration gatherings, also banned by the communist authorities, were the customary dates of demonstrations by the opponents of the communist regime. As Poland emerged from communism in 1989, the original holiday—on its original 11 November date—was restored.
The date corresponds to the date of other countries' Remembrance Day, Armistice Day, or Veterans Day.  All of these holidays and Polish Independence Day are indirectly related because they all emerged from the circumstances at the end of World War I. In other countries, holidays were established in the spirit of grief and horror at the enormous human cost of the war, and they mark the sacrifices of those who fought. For Poland, however, the tragedy of the war was tempered by what had been accomplished at its end: the restoration of a sovereign Polish state that had been lost entirely in the partitions of Poland, after 123 years of struggle. The Polish holiday is therefore simultaneously a celebration of the reemergence of a Polish state and a commemoration of those who fought for it.
Text Source:  Article "National Independence Day of Poland" – Wikipedia