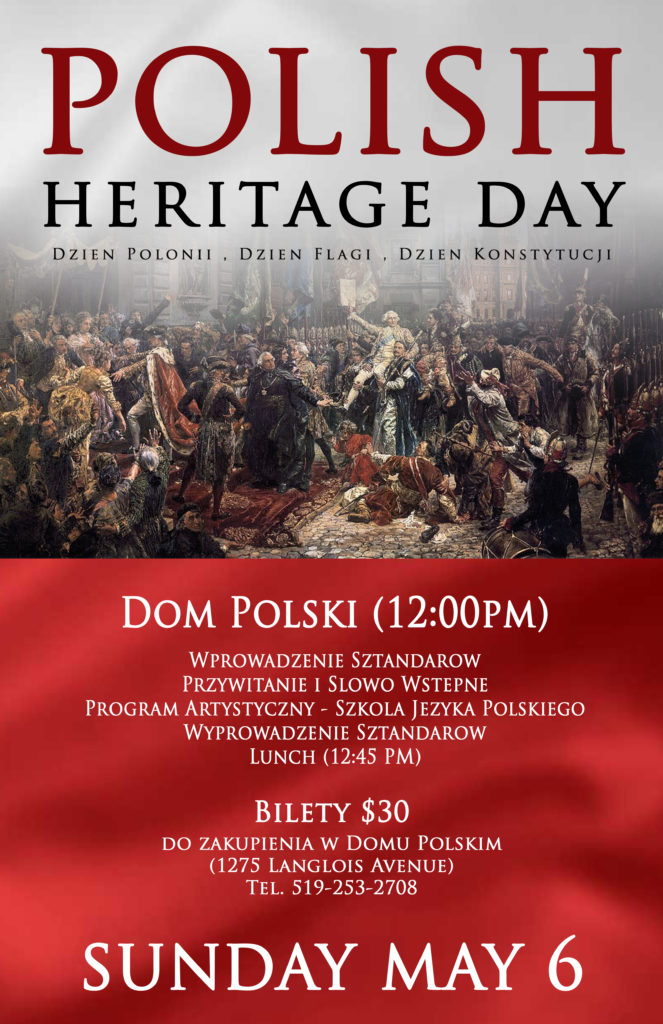 This year, the Polish community in Windsor is celebrating the 100th Anniversary of the Regaining of Freedom by Poland in 1918 and its own 110th Anniversary.
You cordially are invited to celebrate with us at the following events:
Sunday, May 6, 2018, 10:30 a.m., Holy Mass Reflection on Polish Heritage Day
Holy Trinity Church, 1035 Ellis St. E.
The Polish Heritage Day celebration combines Polonia and Polish Flag Day on May 2 and Polish Constitution Day on May 3. Polish Language School, Sr. Anna Fidor, usjkaf@outlook.com, 519-256-7115, and Parish Council, Mariusz Zalewski, superluigi66@hotmail.com, 519-997-5351.
Sunday, May 6, 2018, 12:00 p.m., Polish Heritage Day Luncheon
Dom Polski Hall, 1275 Langlois Ave. Tickets $30/PP.
This gathering is a formal lunch to celebrate the Polish community outside of Poland Day, Polish Flag Day and the First Polish Constitution (May 3) Day, established in 1791. Organizer: Polish People's Home Association, Ma?gorzata Holec, polishclubwindsor@gmail.com, 519-551-2628,