Polish Canadian Women's Federation – Chapter 20 in Windsor would like to thank all the Children, their Parents, Grandparents, Families and Friends for their preparation and participation in the 5th Edition of our annual Polish Young Talents show. It was truly the most successful event ever as far as the variety of the talents showcase and the highest level of the Contest. The  prizes for our young  winners of the Contest in each category – Gift Cards to Indigo/Chapters were entirely funded by the Chapter 20 of the Polish Canadian Women's Federation .
We would like to thank our Jury – Ms. Ela Gorzelnik, Mrs. Anna Wojtal and Mr. Siniarski for their diligent work, the Dom Polski Hall – for hosting this event without charging a penny, the Polish Army Veteran's Association from Windsor – Branch 126 and  Mr. Stan Potomski – who were the  Contributors.
During the intermission there was a short introduction by our Polish American friend from Michigan and author of the books – Mr. Walerian Domanski. We also had a chance to see  the unique greetings cards and Manga Art display prepared by the talented Ganko family from Windsor. The sound and recording of the event was provided by Mr. Robert Budziosz.
Enclosed are the clips from the performances of our young talented musicians:
Alex performs part of "Pavane pour une Infante Défunte" by Maurice Ravel
Frederic performs part of "The Boy Paganini" by Eduard Mollenhauer. His oldest brother (Francis) provided piano accompaniment.
Adriana performed "Long, Long Ago" by Thomas Bayly – it was her first performance ever. Bravo!
Again – thank you Everyone and we hope to see even more talents in the years to come!
Original text – courtesy of: Mrs. Arleta Sziler
English translation – Maria Wojewnik
 _______________________________________________________________________________________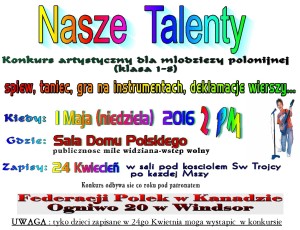 "Polish Young Talents" show is an event for students grade 1-8, who want to present
their talents in singing, playing instruments, reciting poems and dancing.
It is organised  every year, by the Polish-Canadian Women's Federation-Chapter 20 in Windsor.
Also parents/grandparents and friends are invited. Admission is free. For all participants there are prizes and diplomas.
Event location: May 1st @ 2:00 PM in the Polish Club "Dom Polski" (1275 Langlois Ave)
Registration: 24th of April (Sunday) at the Polish Holly Trinity Church after 10.30
and 12.30 Mass
For more info you can contact: Krystyna: 519 250 7094 or Margaret: 519 966-6866
Text, Poster –  Courtesy of Mrs. Arleta Sziler